It was the perfect day. The sun was shining, and the atmosphere was electric. Everyone was smiling with excitement, and the reason was it was the day the annual Great Ethiopian Run is held, Sunday, November 26. Over 40 thousand people took part in the 16th race since it began back in 2001. Some were taking part in their first Ethiopian Great run while for others, it was a chance to improve upon their previous times. Many had taken wonderful journeys to get here and many others were here because of someone else. Everyone would get to share the stage with the world's best distance runners. Something that makes this event so special. This year's race was promoting the message "100 Million Reasons to work together for girls". This message was provided by Plan International, the sponsors of the children's races, as Plan International has been working tirelessly to promote girls' issues and women and has become well-known for its support of this cause. The main goal of the organization is to work with vulnerable children and especially girls so that they can learn, lead, decide and thrive. The strategy called "100 Million Reasons to work together for girls" has the ambition to transform the lives of 100 million girls.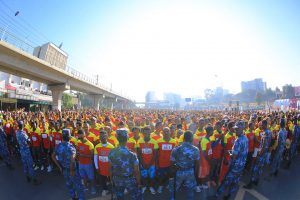 Though I was planning to skip the event this year due to my introvert problems, thanks to my amazing friends I was forced to join them, and I'm glad I did. We got there around 8:30 Pm and Meskel square was already filled with thousands of people whom you can see the excitement on all over their faces.  Watching everyone attaching their race number, preparing themselves for the amazing run ahead and taking pictures made me realize that I would have regretted it if I missed it.
The race started around 9 pm, and almost everyone started to run, me and my friends included. Though we didn't last for more than 200 meters. We walked the rest of the race.  We were not prepared for the race which explains why we had to sit and rest every 30 minutes (I had a lot of coffee) and why I can't walk straight because of leg cramps the days after.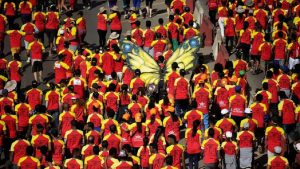 There was such an amazing atmosphere along the way. The music along the route was fantastic and everyone was dancing along. Lots of runners were in different costumes with one wearing a hat which had Jebena and Seni on it.  How he made it to 10km I don't know. You can guess why he caught my attention though, coffee addict here. There were also people with masks on and two guys wearing spider-man's and super-man's costume. The support throughout the race was amazing, there were people lining up on the road, cheering you on and young kids holding out their hands for a high five as you ran (in my case walked) past them. Even the armed police force took their time to cheer in some places. The spirit of GER was on show for all to see.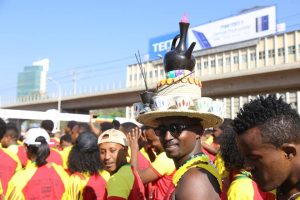 Overall, the race was so much fun and definitely worth skipping on staying in bed. It took us more than 3 hours to finish the race and I'm pretty sure we ranked in the last 40000 out of the 44000 participants. And considering we walked the whole 10 kilometers I was not surprised, I was more than happy because I was able to finish the whole thing without passing out on the road and was able to receive my medal. It was such an incredible experience and an enjoyable day. I would honestly advise anyone to do it, even if it's just a once a year thing, the sense of achievement alone is worth it, and if that's not enough and if you want a deeper reason, know that the Great Ethiopian Run has been raising money for local charities for the past 12 years.  It's easy to run for a cause, it might not make the race shorter but could help make the journey easier.